Our
Infant Art

products
With this print set, you will frame your treasure in a safe way.
Do you know that? Just one moment ago, the new born, tiny treasure laid completely naked on your stomach ... and now, two years later, is he or she a big and independent child. The moment passes, the babies grow, learn new things every day. And before you know it, they are of legal age. With Infant Art, you cannot stop time, but create unique pieces from unforgettable memories. Learn here how that works >
GLUTEN-FREE · PROTEIN-FREE · PEANUT-FREE · LACTOSE-FREE · WASHABLE
Quality that makes sense │ Infant Art
Of course, the most precious gift in the world should not encounter any harmful products, not even for one second. Therefore, the strictest quality criteria apply to our modelling clays and paints. All items from the Infant Art series:
Are produced exclusively from safe, harmless materials
Comply with the applicable toy standards. Which is not necessary in case of this kind of decoration set, but it is for us. According to the motto: "We don´t play around with the quality. Your kids do."
Are continuously checked by the TÜV
Cute foot and hand prints │ Infant Art
The fragrant modelling clays from Infant Art Body Impression, smelling like plasticine, make a dent. Dry the material after completion of the print with repeated turnaround, at the lowest temperature in the oven or in the air.
With the color prints from Infant Art Body Stamper you create unique gifts. Whether it's a greeting card for family or friends or individual decoration - your imagination has no limits with Infant Art.
---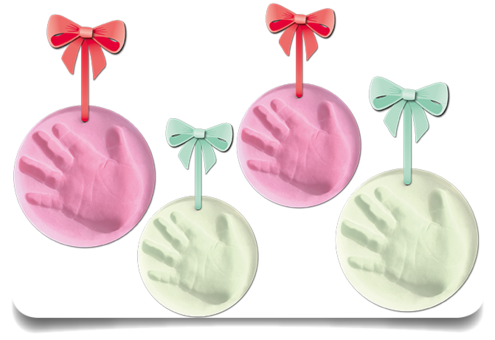 You wish to learn more about our kneading & modelling clay?
Of course we have put together a lot of helpful tips & tricks > as well as creative ideas >.
You wish to buy our Infant Art set?
Feuchtmann products are available in selected retails. Just ask and we will name you a partner in your area.
You wish to add our Infant Art set to your range of products?
Let's talk about it. We are always interested in a long-term and fair business partnership.