Our CLiCKSi products
With these simple chain links, beautiful things can be created and the first ABC experiments start.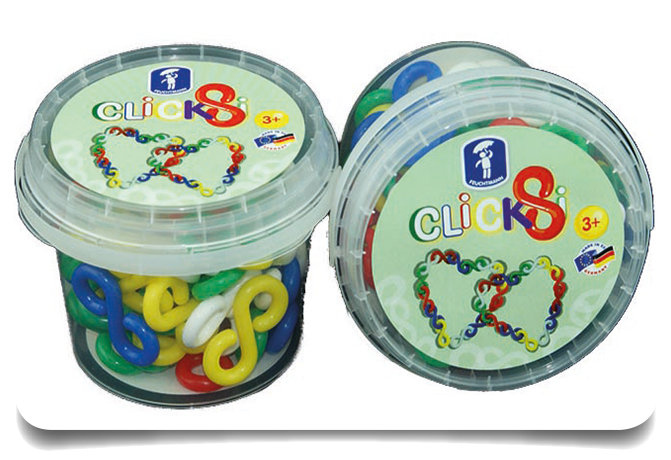 Chain links. An old classic and in the modern world still a hit in kindergarden & Co. CLiCKSi – chain links - a wonderful, easy method for the very first motor skills activities. Whether a simple chain, crown or skipping rope - with these links, children achieve fast success and have a lot of fun.
Good waiting time shorteners in restaurants and practices. If a chain link is lost, there are no limits in the further play.
With CliCKSi, your child exercises in a playful way the fine motor skills, develops spatial imagination and thus his individual creativity!
Chain Links by Feuchtmann │ There's more to this toy than you think
First ABC exercises - that makes happy! Not only the creation of long chains is fun, even first letters can be beautifully put with CliCKSi, which trains the preschool children in a fun way.
You wish to learn more about CLiCKSi?
Of course we have put together a lot of helpful tips & tricks > as well as creative ideas >.
You wish to buy our product CLiCKSi?
Feuchtmann products are available in selected retails. Just ask and we will name you a partner in your area.
You wish to add CLiCKSi to your range of products?
Let's talk about it. We are always interested in a long-term and fair business partnership.