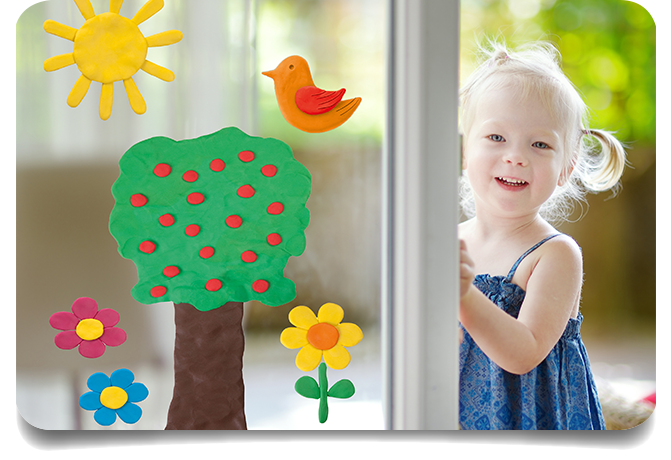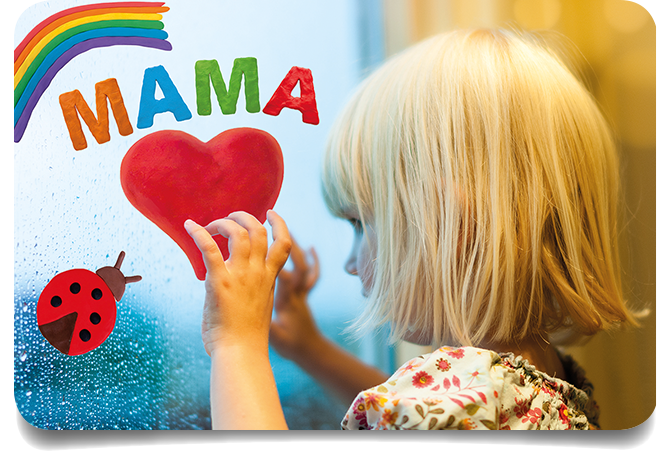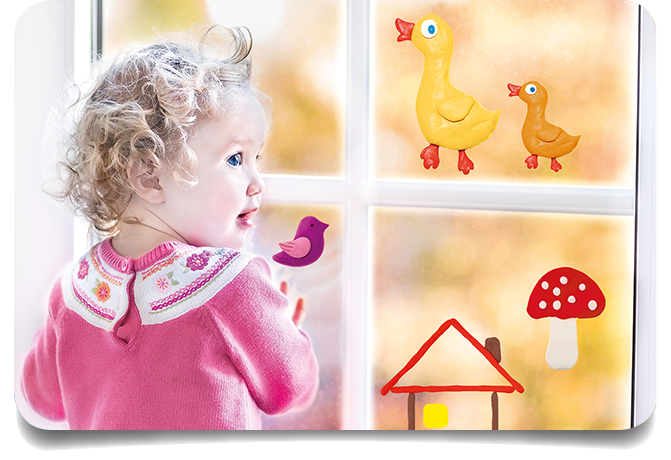 Tips & Tricks Kneto WINDOW CLAY
Our patented window clay has a specially developed wax, which can easily be removed from the window. Slight grease marks can efortlessly be cleaned with a microfibre cloth. The special wax will make your windows even cleaner!

Nice and clean alternative to finger paint and window colours.

3D Clays on the window respectively on all other plain surfaces - easy-peasy! You either knead directly to the window or create your modelling-clay figure on the work station and then press it onto the window.

The modelling-clay creations can be removed with the included modelling tools, in order to be able to clean the window, and then refixed after cleaning. You can also use the modelling tools to decorate the figures. This way you can carve the dog a fur or sketch the sheep's wool.

The colours can easily be mixed with each other.

In midsummer, you should not place any window pictures. In this case, you should chose windows in the shadow or postpone your creative action to autumn.

You can compare Kneto WINDOW CLAY with a piece of butter. If you place it in the fridge, it becomes adamant, if you leave it at room temperature, it is smooth and at high temperatures, it can almost melt. The original state of the clay can easily be reached just by cooling it.

You can easily peel off colour residues with help of a modelling clay of a lighter colour on the object and / or hand. If the clay has become very soft, then please wash your hands normally, in case of wax residues, rub hands with commercial cooking oil and then wash them. Everything is then clean again. This window clay leaves no colour residues on glass surfaces!

For soiling of e.g. carpet, clothing, etc. remove as much as possible clay residues, apply blotting paper and iron with light heat over the soiled area. Care labels on the textiles are to be observed!

So and now the last tip! Please always keep in mind, modelling clay belongs to the category crafting, crafts possibly mean dirt, especially if you do not get ready for that. A craft underlay and a craft apron are always a good advice.